DYNAMIC CONE PENETROMETER
Need a DCP, look no futher, we've got you covered!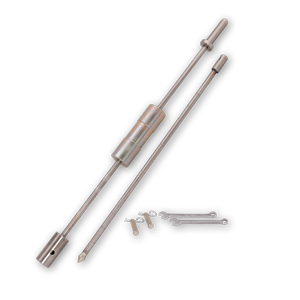 READ MORE:
DCP Dual Mass
Dual-Mass Dynamic Cone Penetrometers (DCPs) provide a low-cost, efficient test method for determining in-situ CBR values of pavement base, subbase and subgrades. DCPs can be used in both new construction or as a quality analysis tool for evaluating current conditions of existing highways, airfields and similar structures.
DCPs can be used to quickly determine site conditions prior to, during and after construction. They are used to evaluate the uniformity of different layers and areas of construction without the need for removal of surface materials and can quickly pinpoint problems, such as soft or hard sublayers. DCPs save time and money while providing accurate results to a depth of 37-1/2 inches, or up to 6 ft with an extension rod. DCPs have been used by the Army Corps Of Engineers for years and contiue to provide consistent and repeatable results.
Humboldt provides several different models of DCPs, most of which feature design improvements over the original design for additional ease of use and improved durability. One of these improvements has been the development of disposable cones.
This has increased the ease-of-use of DCPs by eliminating the need for a jack to remove the unit from soil after a test. Models H-4218A, H4218D and H-4219 comply with ASTM D6951 specifications and come with a chart to compute CBR values, as well as an Excel spreadsheet template, which automatically charts the test results.
Dual Mass DCP Benefits include:
The ability to immediately determine the location and depth of layers.
Can be used in both hard and soft soils for pavements (CBR 100% to .05%).
The ability to compute results manually on location, as well as produce data with charts rapidly using supplied Excel spreadsheet templates.
Single-Mass Dynamic Cone Penetrometers:
Models H-4223 and H-4202 are typically used for foundations. These instruments corelate to the "N" value for the Standard Penetration Test (SPT) The H-4202 comes with an auger head, T-handle and multiple extensions are available for insertions up to 20 ft.
Humboldt provides several different models of Dynamic Cone Penetrometers; on the back are the most popular, give us a call to determine which is the right one for you.