Need to test the strength of your concrete, look no further we have you covered!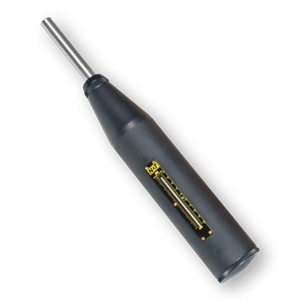 READ MORE:
Concrete Test Hammers W-M 250 / 350:
The W-M-250 Manual Test Hammer is the traditional instrument used for the non-destructive testing of hardened concrete. This easy-to-use instrument provides a quick and simple test for obtaining an immediate indication of concrete strength in various parts of a structure. The minimum verifiable strength is 1400 PSI (10 MPa).
The W-M-350 Recording Concrete Test Hammers gives you the same quality as the W-M-250 but with the added feature of a built-in automatic chart recorder. Every test you take is automatically recorded as a bar chart on a paper strip. This creates a field record to verify your findings. In addition to this paper record, you can see each test as it happens through the large easy to read window. The W-M-350 comes with two rolls of paper, each with a capacity to record over 4000 tests.
Calibration Anvil Model W-C-7312 It is recommended that calibration of the concrete test hammers be checked regularly – usually after about 2000 strokes. The James Calibration Anvil (W-C7312) has been designed for just that purpose. The Calibration Anvil weighs approximately 35 lbs. (16kg) and should be ordered separately.
Test Hammers (Concrete) – Manual Model W-M-250
Easy to use manual calculation of the mean rebound number.
Test Hammers (Concrete) – Manual Model W-M-350
Records every test on chart paper.
Easy to read and use.
All James Test Hammers conform to ASTM C-805, BS-1881 #202 and other international standards.
Manual Test Hammer W-M-350
Weight: 3.2 lbs. (1.4 kg)
Size: 5" x 3" x 14" (127 x 76 x 355mm)
Shipping Weight: 6 lbs. (2.7kg)
Carrying Case Dimensions: 8" x 7" x 14" (203 x 178 x 355mm)
Manual Test Hammer W-M-350
Weight: 2 lbs (0.9 kg)
Size: 10 1/2" (267mm) (with plunger retracted)
Shipping Weight: 6 lbs. (2.7 kg)
Carrying Case 15 1/2" x 11 1/2" x 2 1/2" Dimensions: (394 x 292 x 64 mm)